inTouch Camp Prod, Romania 2019
"Please stay for coffee and cake" insisted Ben's wife, Getta.  We turned around to face the circle of their relatives and friends who we had hugged and said goodbye to just moments ago.  The warm smiles and welcoming hands holding out plates, persuaded our tired bodies to sit back down and spend a little longer in this beautiful Romanian – German style home.  This was a lovely break in our journey with Ben, who had kindly picked Josh and I up from Bucharest airport along with Don Stephens, our friend and teacher from West Virginia and a tall, South African called Beau Durr who we had never met before, but the exciting stories he shared from the get-go made us feel like we had known him longer!  We drank the coffee and ate some of the sweet cake as various family members reminisced over a wedding which had taken place the day before. The Romanian hospitality and value placed on being with people, rather than time keeping, reminded us we were among the warmth and hospitality of Eastern Europeans again!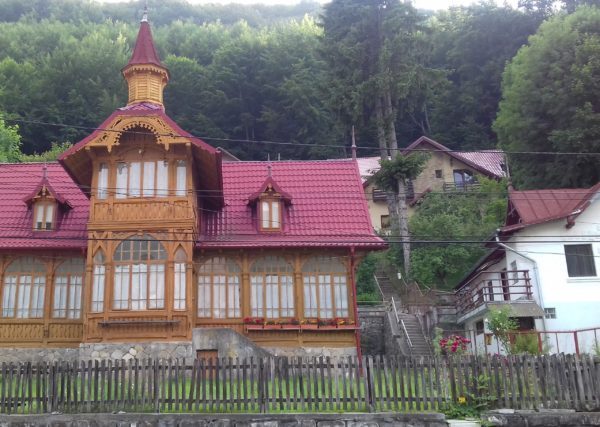 After this, we ascended and descended the mountains and drove through a lot of steep and windy roads. After a long day of travel we arrived in the rural village of Prod where the inTouch camp would begin the next day. We stayed in a rustic cabin, and woke to a few mosquito bites, low phone signal, the sound of a cockerel and church bells, all reminding us we were out in the sticks, but among nature's best!
The inTouch camp was a life-giving week, with times of powerful worship, fellowship and teaching. The inTouch Camps take place every year at various YWAM locations around Europe. It's a ministry for those who have served or still serving Youth With A Mission, and also for their friends, families and supporters.  As we prayed on the first morning we felt that the week would be a time of refreshing for people. This was one of the main things which people hoped to experience at the camp and to hear from God! Many who attend inTouch lead busy lives serving in full time ministry as well as looking after their families and doing various jobs.  I was inspired by the heart attitude of people I met at the camp, who couldn't do enough to love and serve one another! As we spent time together, we exchanged stories, testifying to God's great love for us and His faithfulness in our lives! We enjoyed playing ice breaker games in the field and some enjoyed a game of volleyball.  We shared tasty meals together lovingly prepared by a group of ladies who worked tirelessly in the kitchen to serve us each day. There was also a cafe where we enjoyed spending time together, talking into the late evenings, eating sunflower seeds and playing board games.  It was a great time of refreshing as we soaked in God's goodness throughout the week. 
Don taught and preached on our purpose to glorify God in every area of our lives, as well as Grace and The Kingdom.  The Holy Spirit was very much active throughout these times bringing freedom, truth and newness of life to people.
I have heard this presentation several times, but one of the things that stood out to me this time is how much God cares about every aspect of our being (body, soul, spirit, mind) and every area of our lives, including our work!  Vocational significance is quite often played down in the church, and whether we realise it or not, we can often think in a dualistic way, that spiritual things are more important than physical things e.g. A pastor or a missionary is seen to be a higher calling than working as a builder or cook. But in the Kingdom of God all things matter! Every vocation has significance in this world that God created and each vocation uniquely reflects the glory of God! Imagine a kingdom without sanitation, gardening, music, architecture, seamstresses! What a mess it would be! Something to ponder… 
We so often call missionaries up to the front of churches to pray for them and send them out, but how often do we call the teachers and business leaders forward to pray for them? Don Stephens
After an amazing week at inTouch camp, Josh and I came away refreshed and with a deeper love for the nations. We are looking forward to returning to Romania in September to share at the YWAM Constanta Discipleship training school.  Since our DTS 5 years ago, we have enjoyed learning from and travelling with Don from time to time, and sharing this presentation in various bases, youth meetings and most recently, Amazing Graze soup kitchen.  It has been a great privilege for us and has been some of the most life transforming years of our lives so far!  If you would like to continue tracking with us we always appreciate your prayers! Here are some of the things you can pray for:
Pray for the inTouch camp and restore ministry.  As they continue to bring restoration to Romania and reach the Roma community.  

Pray for the ongoing building projects, for provisions to be met and God given ideas and strategies as the ministry expands.

Pray for the Holy Spirit to lead and guide Josh and I for wisdom and deeper understanding as we continue studying the topic of grace, worldview and the Kingdom of God.

My accent at times feels like a stumbling block when trying to communicate well. Pray for clarity and boldness from the Holy Spirit as we speak and share, especially when overseas. 

For the Holy Spirit to increase our faith and do His work through us as we serve, that we may demonstrate His love and His power.

Pray for the up and coming Extreme tour in August which Josh and I will be joining for two weeks around the UK going to mostly unreached places sharing God's love through music and stories

 

For financial provision for our mission trips! We enjoy our work in marketing and music and we see 'tent-making' as part of our calling, but we would like to give more time to studies and be able to go to the places we have been invited to sing and teach.